America's seaports are now starting to feel the chilling effects of supply chain disruptions from China, warned Noel Hacegaba, the Deputy Executive Director of Administration and Operations for the Port of Long Beach, California. 
Hacegaba said the Port of Long Beach, the second-largest containerized port in the US – is experiencing weakness in volume, down 6% YoY in January, and down another 6% YoY in February. For the quarter, he said the port could see a decline of 12% YoY.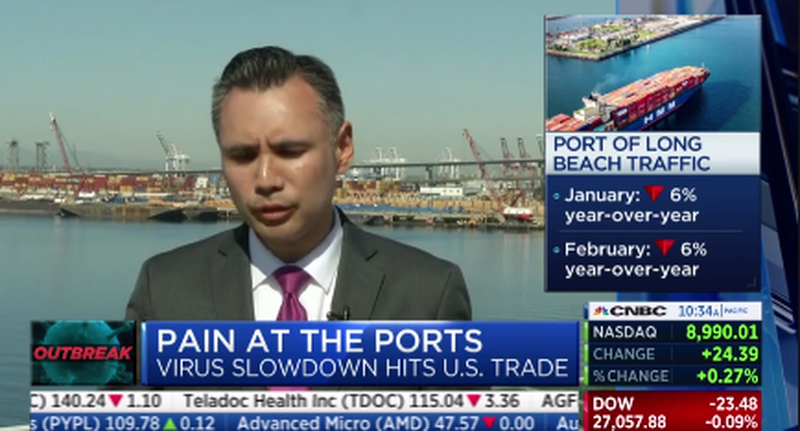 He warned that economic paralysis in China has led to blank sails of containerships across shipping lanes between China and the US. 
World Maritime News adds more color onto blank sailings and economic loss that is shocking the global shipping industry right down to the haul. 
So far, 105 blank sailings between Asia to North America and Europe have been recorded from January 20 to February 10. The shuttering of dozens of manufacturing hubs in China for virus containment purposes has left the country's factory output well below full capacity in February, and likely depressed into March.
Data from the UK-based maritime research consultancy, Drewry, said, "the cancellation of 105 sailings per month represents a shortfall in revenue of roughly USD 1 billion (105 x 10,000 TEU x USD 1,000), of which a portion will be made up later via full ships and extra loaders, but the short term damage to carrier profits is large."
Drewry said port operations in China remained down 20 to 40% during the period. It said ports in the US are only now starting to feel the shock, which is what Hacegaba described last week was beginning at West Coast ports.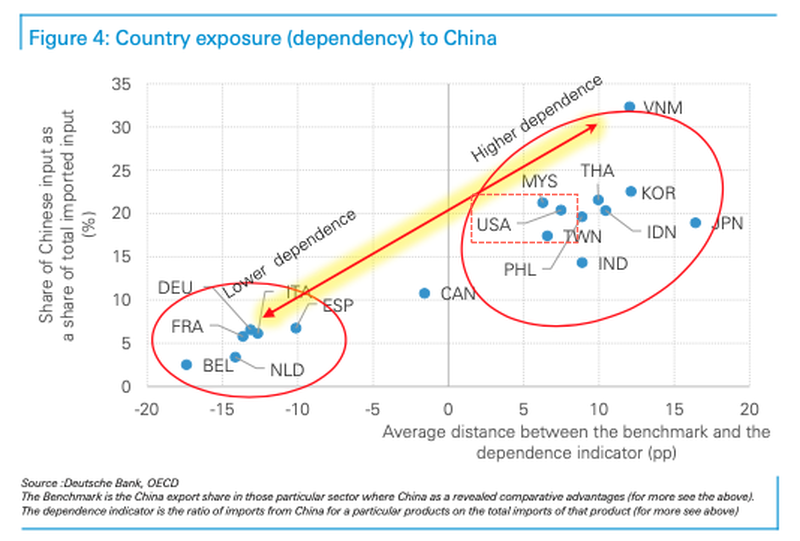 Drewry warned that the plunge in container volume in China would severely weigh on global port volumes for the quarter:
"Cargo owners and shipping lines are desperate for a swift resolution that will see Chinese factories resume production and start churning out the goods and parts that grease the global supply chain. It is inevitable that world port throughput will suffer a large contraction in 1Q20, but the question is now whether we can expect a v-shaped recovery later this year or something else entirely?"
For some color on why container volumes in China and likely the rest of the world will collapse this quarter, we specifically outlined in semi-official data from China that business conditions are printing at depression levels (as a reminder, China has been responsible for 60% of the world's credit creation in the last decade – if China's catches the flu – so does everyone):
And for confirmation of China's economic paralysis, China's National Statistics Bureau reported Friday night the latest, February PMIs and they were absolutely catastrophic:
Manufacturing PMI crashed to 35.7 in Feb, far below the 45.0 consensus estimate, and sharply down from 50.0 in January. A record low.
Non-Manufacturing PMI plummets to 28.9, also far below the 50.5 consensus, estimate, and down nearly 50% from the 54.1 in Jan. This too was a record low.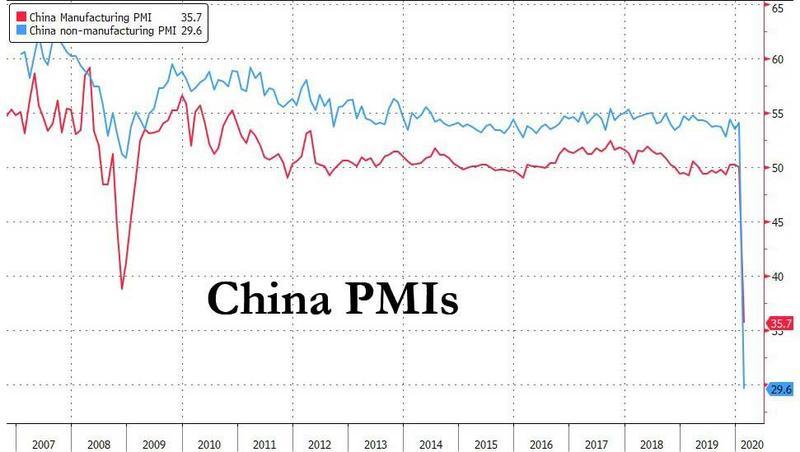 Putting these numbers in context, the collapse in China's economy will continue to weigh on global supply chains that are entirely dependent on the Asian country as a manufacturing source. 
"Whatever the outcome, COVID-19 has exposed the fragility of global supply chains that are overly dependent on a single manufacturing source. We suspect that shippers will look to broaden their sourcing options as a form of insurance," Drewry said.
The nightmare scenario is that the virus outbreak shocks the world into recession as containerized volumes collapse along with trade growth would be devastating for the shipping industry:
"Under this scenario, we anticipate a prolonged downturn for freight rates and an elevated risk of a carrier bankruptcy. To avoid such a prospect, carriers would be forced to revisit the playbook from the financial crash of a decade before and undertake large scale capacity withdrawal in the form of mass idling and demolitions," Drewry concludes.
And for all those expecting that Beijing will unleash another massive stimulus to kick-start the economy at any cost, it seems that the likelihood of another round of massive stimulus appears low, which means markets are underestimating the scale of the growth slump.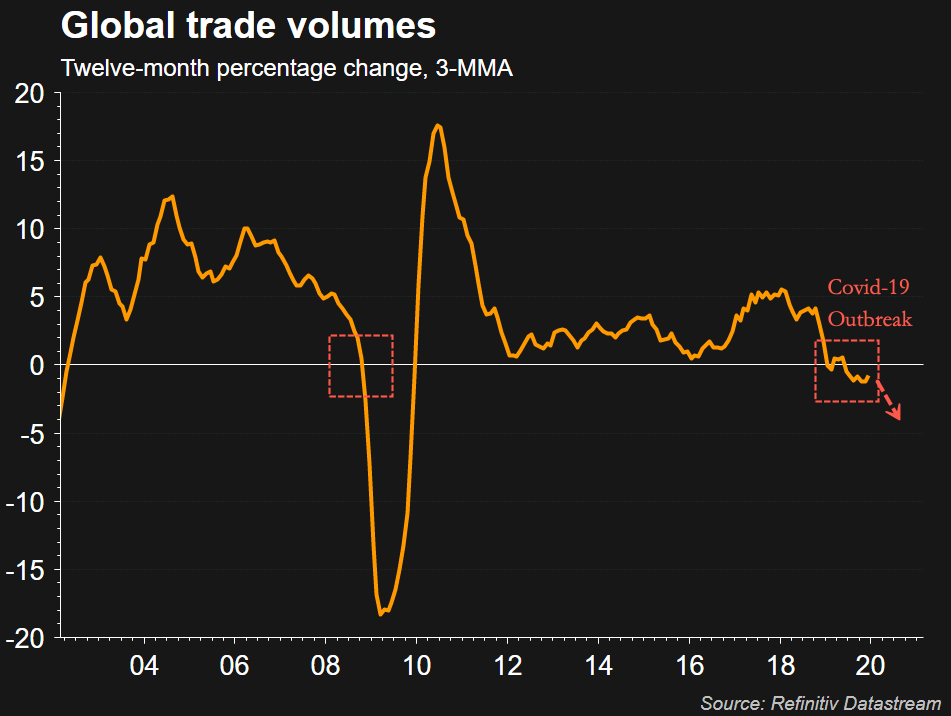 The outbreak in South Korea and Japan may be the next big concern for American ports, as creaking global supply chains has underlined the fragility of the global economy. 
by Tyler Durden