The US central bank should consider cutting interest rates by one percentage point and introduce "some quantitative easing" stimulus measures, president Donald Trump has said.
In a Twitter post he again complained about a strong dollar, which "is sadly hurting other parts of the world".
The remarks came hours after the president said the US economy is not falling into a recession.
The economy is doing "tremendously well", he said.
Mr Trump has posted a series of critical tweets in recent months aimed at the Federal Reserve and its chief Jerome Powell. Last week the president called him "clueless" for not cutting rates sooner.
A US-China trade war, gloomy economic data from Germany, and uncertainties over the UK's exit from the European Union have unsettled share markets.
There are also worries that the bond markets are flashing recession signals. It is now cheaper for the US government to borrow for 10 years rather than two – an indication that lenders fear short-term economic risks have increased.
Mr Trump's suggestion on Monday that the Fed should consider a return to its crisis-era money-printing programme comes despite him insisting a day earlier that the US economy was in good health.
"I don't think we're having a recession," the president said. "We're doing tremendously well, our consumers are rich, I gave a tremendous tax cut, and they're loaded up with money".
He pointed to last week's healthy profits from Walmart, the US retailer often described as the world's biggest, and pointed to a strong performance from US consumers.
'QE not the answer'
"Most economists actually say we are not going to have a recession. Most of them are saying we will not have a recession, but the rest of the world is not doing well like we are doing."
White House economic adviser Larry Kudlow also said on Sunday there was "no recession in sight", telling Fox News Sunday: "Consumers are working. Their wages are rising. They are spending and they are saving."
Fed member Eric Rosengren, president of the Boston Federal Reserve Bank, warned that any lowering of interest rates could encourage a build up of debt as consumers borrow more.
"And is this the right stage in the cycle for us to encourage people to be taking on more debt?" he said in an interview broadcast on Bloomberg Television. Mr Rosengren was one of two dissenting votes at the US central bank on its decision last month to cut borrowing costs for the first time since 2008.
He also warned against more stimulus, saying that just because other countries are weak does not means the US should be easing.
Markets around the world were rattled last week by the movement in the bond markets, which also knocked stock markets.
On Wednesday last week, US stock markets fell by about 3% when the yield curve inverted, although they had recovered lost ground by the end of the week.
Last month, the US Federal Reserve cut interest rates for the first time since 2008, and more cuts are expected. Janus Henderson's Laura Foll told the BBC's Today Programme that the US central bank was "responding to global events" such as the contraction in both the UK and German economies during the second quarter.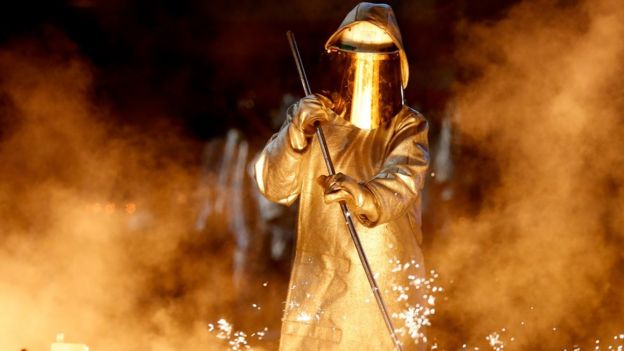 The German economy contracted by 0.1% in the second quarter of the year, according to figures released last week, and its central bank said on Monday that it could shrink again in the third quarter – indicating a recession.
"Overall economic performance could again decline slightly," the Bundesbank said in a monthly report. "The main reason for this is the continuing downturn in industry."
The US economy also slowed in the last quarter, growing at an annualised pace of 2.1%.
The US president has published about 40 tweets either criticising Fed chairman Jerome Powell or pushing for a rate cut.
"Of course, it is really hard to know how much of an effect Trump is having," Ms Foll said.
"I don't think you can rule out the extreme pressure the Fed is under from Trump, but it is really hard to know how much of a direct knock-on effect that is having on policy."
---