Readers may recall as early as April we outlined how mortgage lenders were preparing for the most significant wave of delinquencies in history as tens of millions of people lost their jobs because of the virus-induced recession.
Mortgage lending standards have since tightened as mass foreclosures and mortgage market mayhem appears to be ahead.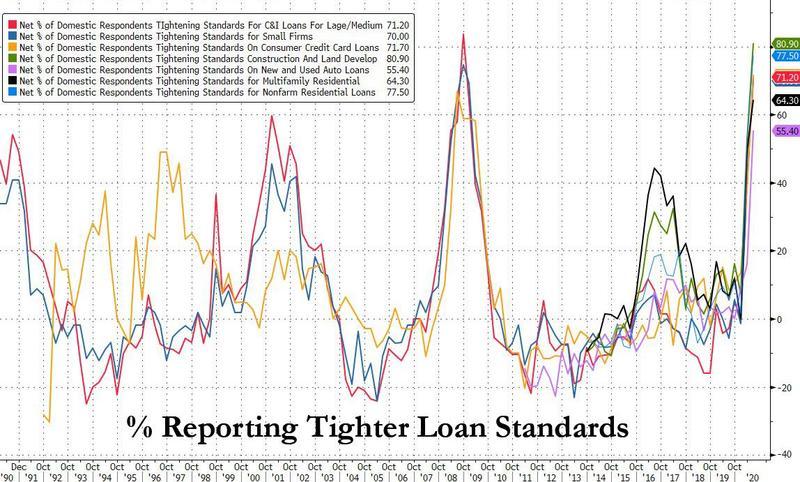 The Trump administration has found creative ways to prevent the foreclosure wave during the election year – which has placed millions of homeowners in forbearance programs to shift the mortgage crisis until after November.
Property data and analytics firm CoreLogic published a new report Tuesday warning about early-stage delinquency rates are starting to rise.
CoreLogic said on a national level, 7.3% of mortgages were 30+ days or more overdue (in May). This is a 3.7-percentage point increase in the overall delinquency rate compared to 3.6% in May 2019.
Stages of delinquency:
Early-Stage Delinquencies (30 to 59 days past due): 3%, up from 1.7% in May 2019.
Adverse Delinquency (60 to 89 days past due): 2.8%, up from 0.6% in May 2019.
Serious Delinquency (90 days or more past due, including loans in foreclosure): 1.5%, up from 1.3% in May 2019. This is the first year-over-year increase in the serious delinquency rate since November 2010.
National Overview of Loan Performance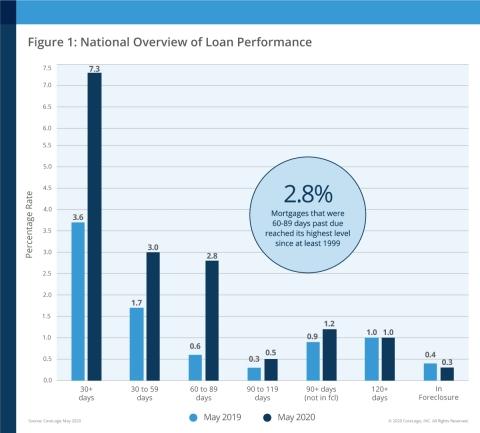 CoreLogic's chief economist Dr. Frank Nothaft said, "the national unemployment rate soared from a 50-year low in February 2020, to an 80-year high in April. With the sudden loss of income, many homeowners are struggling to stay on top of their mortgage loans, resulting in a jump in non-payment."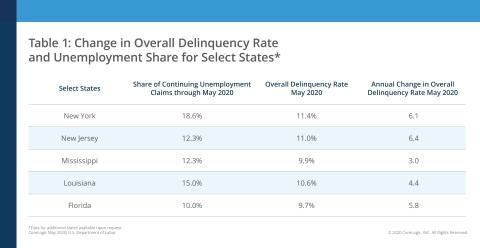 Government and industry relief programs have provided a temporary safety net for millions of homeowners unable to service their mortgage. The housing crisis is expected to begin after the election:
"U.S. serious delinquency rate to quadruple by the end of 2021, pushing 3 million homeowners into serious delinquency," said CoreLogic.
Frank Martell, president and CEO of CoreLogic, said, "barring additional intervention from the Federal and State governments, we are likely to see meaningful spikes in delinquencies over the short to medium term."
All states logged increases in overall delinquency rates in May from a year earlier. New Jersey and Nevada, both still hot spots for the virus, experienced the largest overall delinquency gains with 6.4 percentage-point increases each in May, compared to one year earlier. New York again remained atop the list with a 6.1 percentage-point increase, while Florida experienced a gain of 5.8 percentage points.
On the metro level, nearly every U.S. metropolitan area posted at least a small annual increase in their overall delinquency rate, with tourism destinations such as Miami, Florida (up 9.2 percentage points), and Kahului, Hawaii (up 8.8 percentage points), posting two of the largest increases. Odessa, Texas — which has a local economy strongly tied to the oil industry — also logged a considerable increase, posting an annual gain of 9 percentage points.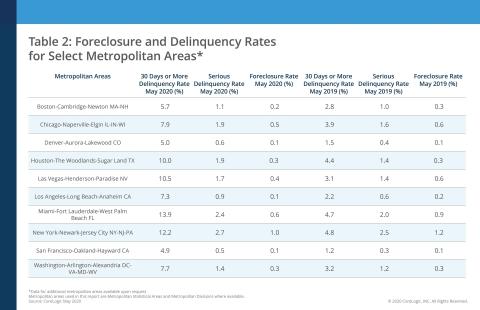 Meanwhile, over 75% of all metro areas logged at least a small increase in their serious delinquency rate. Odessa, Texas, and Laredo, Texas, tied for largest increase with gains of 1.1 percentage points each. McAllen, Texas; Midland, Texas and Hattiesburg, Mississippi all followed with gains of 0.7 percentage-points each. -CoreLogic
And while the Trump administration is now in "bailout everyone mode" – their ability to dissolve the financial crisis in its entirety will likely not succeed but only push off part two of the crisis until after the election. 
Article appeared on Zerohedge.com
Must read articles on the RTD Blog!!!