Well, not really…
THIS POST on gold miner stocks tries not to focus on fundamentals or the negative potential sentiment set-up that could develop when coronavirus relief finally spreads across the land, writes Gary Tanashian in his Notes from the Rabbit Hole.
Instead, it's the short and long-term technical analysis of it, as it stands now.
Why? I found this comment response to a recent article on the long-term gold Commitments of Traders situation to be amusing and also on point, since I know a lot of what I write can be confusing to the untrained eye amid a sea of readily digestible analysis out there. Good one, sir…
"Do you think if I pay an extra $15 a month to the $35 subscription fee you can provide a translation service in [English] to what you're trying to talk about?"
Anyway, the answer to his tongue-in-cheek question is 'no'.
The price (a distinct value) is right for the full NFTRH service, because therein you will be challenged to be flexible and open-minded. You will be asked to do the work of reading (and re-reading if necessary) real market analysis that has only one goal…to keep us on the right side of markets at all times.
It's not about easy digestion. Remaining in line with the markets requires thinking and consideration on your part.
That said, let's have a simple and readily digestible technical analysts post today on the gold miners.
In this TA, I am tempted to go into considerations about the sentiment implications of the coronavirus, the re-strengthening real (as opposed to imagined by inflation-focused bugs) fundamentals for the precious metals and especially the miners. But instead we'll review simple daily, weekly and monthly charts of the HUI gold-mining stock index, while avoiding or at least greatly minimizing confusing commentary interference.
HUI Daily is in a Cup & Handle formation that I am pretty sure most everyone sees. But more importantly, the daily chart trends by the SMA 50 (intermediate) and SMA 200 (longer-term) are and have been sloping upward.
Back on January 14th Huey held the noted support zone and the SMA 50, which kept us constructive (per parameters laid out in an NFTRH update that preceded it by 2 trading days on Jan. 9). It did so again early this week. The SMA 50 was sloping up and an uptrend is an uptrend until it no longer is (simple, eh?).
Elsewhere on the daily chart we see an RSI that could either be considered a negative divergence or a completely non-overbought indicator readying the market price for higher levels. MACD has not triggered up but is positive above zero and holds similar implications to RSI. AROON recently eased to negative, implying a short-term downtrend (which has been the Cup handle's job). Bottom line: AROON or no AROON, it's an uptrend by the price above the very short-term EMA 20, the intermediate SMA 50 and the longer-term SMA 200. Period.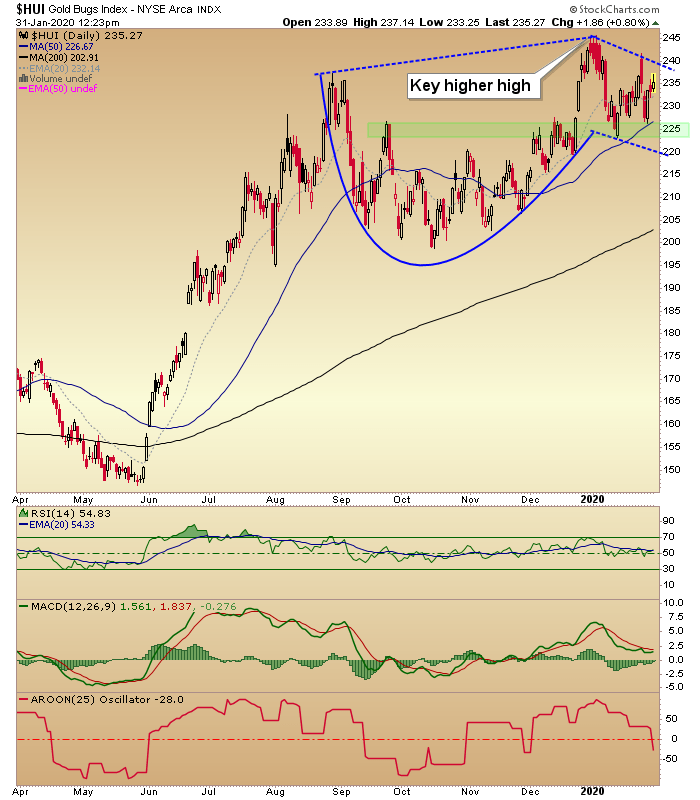 HUI Weekly is and has been an attractive specimen. That has been the case as long as it has held the 220 area support on the Cup's handle-making. It has not broken out of the handle, but again if the negative RSI divergence is viewed in a positive light (i.e. a non-overbought situation) it would do so before long and target the 2016 highs (many of the individual stocks I hold and we chart have already taken out the 2016 highs in a sign of leadership).
by Gary Tanashian