As if the trade war – and soon to be currency war – between China and the U.S. needed another wrench thrown in its gears…
China sent cryptocurrencies tumbling on Friday after re-cracking-down on exchanges that are operating illegally against authorities' ban.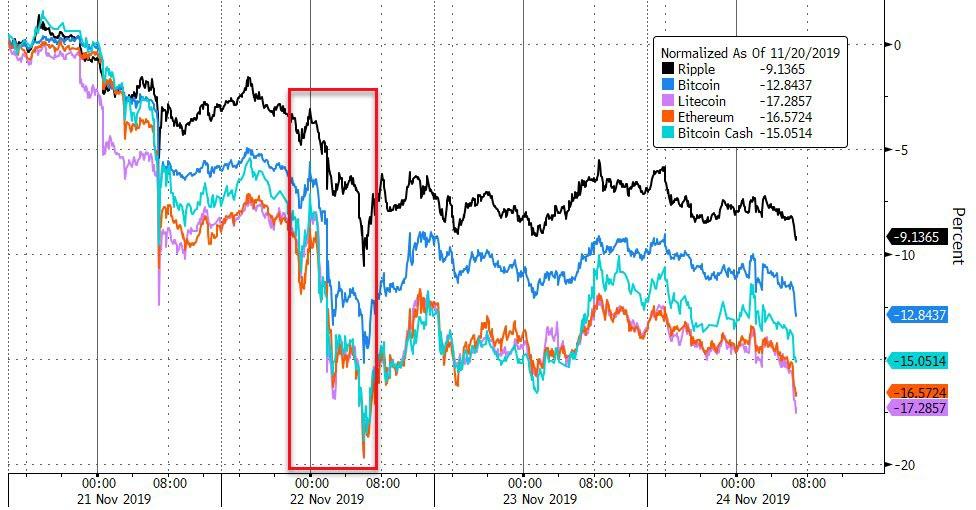 Source: Bloomberg
On Nov. 22, authorities in Shenzhen have identified a total of 39 exchanges falling foul of China's cryptocurrency trading ban, according to local news outlet Sanyan Finance. 
It remains unknown what consequences the exchanges will face, with Sanyan highlighting a desire to crack down on liquidity.
It appears that China's blockade on non-government-sanctioned crypto trading, could be on its way to launching its own digital currency within the next 6 to 12 months, according to fund manager Edith Yeung, who recently appeared on CNBC.
The Chinese government has been researching the idea over the last few years and has reportedly identified entities to use for a potential rollout, Yeung says.
"It's really been something (that's) been in the works for the last few years," she said on Wednesday during an interview. Yeung is a partner at blockchain-focused venture capital fund Proof of Capital.
When she was asked how long it might be before the launch becomes reality, she responded "Quite soon. So I definitely think within the next 6 to 12 months."
And China has recently embraced blockchain, with state media reporting that President Xi Jinping said the country should look to "take a lead" in the technology. 
Wendy Liu,head of China strategy for UBS, also said that there was greater willingness to work with blockchain and 5G in China because they will help facilitate and manage the world's biggest country by population.
Liu commented: "Due to its own needs, (China) is going to push in that direction and you see this willingness to back these technologies more so than anywhere else."
Meanwhile, tensions between China and the U.S. continue to hit new fever pitches, as the trade war standoff between the two countries continues. Yeung says that even thought the dollar remains the world's reserve currency, the wider use of the Yuan could "challenge the U.S."
She commented: "I think the Chinese government is being really smart about driving the adoption of RMB. Can you imagine, especially for the One Belt One Road initiative, they (start) to lend all in virtual RMB? Many of these countries will want to work with China to start adopting virtual RMB."
She cited Facebook's foray into its own virtual currency as the catalyst for China's quick move to adopt the idea. "I think what (has) been done on the Libra side of things, instead of driving adoption for Libra, it is actually driving the whole world, central banks to really need to get into the game for digital currency," she said.
"I really think that the United States needs to hurry up to have a strong thinking and policy, at least a direction for virtual USD," she concluded.
Article originally published on ZeroHedge. You can watch a snippet of an interview here: